WELCOME
Michigan Jaycees October 2015 Leadership Conference - Holiday Inn Gateway Centre
Friday, October 2, 2015 - Sunday, October 4, 2015
Flint, MI
Join us at the Holiday Inn Gateway Centre for a for a weekend of celebrations, trainings, and networking. We are excited to be hosting special guest, the 95th United States Junior Chamber Jennifer Ray. I look forward to seeing you there!
Hotel registration information, training information and a schedule is available below.
We can't wait to see you in October at the Holiday Inn Gateway Centre!
REGISTER
Conference Registration
LOCATION RESERVATIONS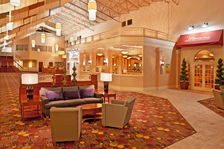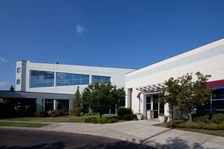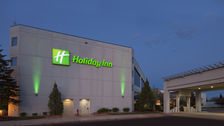 Holiday Inn - Gateway Centre
5353 Gateway Centre
Flint, MI 48507

Hotel Reservations at the Holiday Inn Gateway Centre are available. The cost is $95 per night plus tax (currently 6% state and 5% occupancy). This rate ends September 10th. Reservations can be made by calling (800) 465-4329 or (810) 232-5300 and using the group code of Michigan Jaycees.
Booking/Deposit Policy: We are a pre-deposit resort. At the time of reservation, we will charge your card for the first night's (or only night) lodging plus taxes and fees. Any remaining balance will be collected at check-in.
SCHEDULE
Friday Schedule:
Dress Code: Tail Gate Casual. Join us on Friday Night in your favorite team gear. After Opening Ceremonies we will have Tail Gate Games and Activities.
Programming Interviews: 4-7pm
Conference Registration: Open 6-8pm and 10-11pm
First timers: 7:15pm
Opening Ceremony: 8:00-10:00pm
Competitions: 10:00pm
Tail Gate Games & Activities: 10pm–Midnight
Election Information to follow
Saturday Schedule:
Dress Code for Business Meeting and Training: Business Casual
Dress Code for Awards Ceremony and 2016 Michigan Jaycees Inauguration: Semi-formal
Business Meeting: 8-9:00am
Training (Session 1): 9:10-10:40am
Training (Session 2): 10:50 – 11:40am
Lunch & Awards: 12-1:30pm
Training (Session 3): 1:45-2:45pm
Reception with Cash Bar: 5:00pm
Ballroom Doors Open: 5:30pm
Dinner 6:30
Awards Ceremony and 2016 Michigan Jaycees Inauguration: 7:15pm
Chapter Wraps: Upon completion of Awards Ceremony
Party: 10:30pm-1am
Sunday Schedule:
Fellowship breakfast: 10-11am (requires additional registration)
2016 Michigan Jaycee Board Interest Meeting: 12:30-1:30pm
Schedule is subject to change.
TRAINING
Pre-registration is required for training sessions.
Click here to register
Registration Ends September 19, 2015
Session 1
Local President Forum
Matthew Sernau
91st Michigan Junior Chamber President
Presidents Only
Live Long and Prosper
Heather Harris and Team

In this final stop on the 2015 Programming Conference Training Tour, let us look forward and back so that we may boldly go towards what's next! Join Vice President Heather and her team to discuss critical analysis, succession planning, transitions and more! Local officers are encouraged to attend. Local VP's and Directors
People to People - Making Real Connections
Jennifer Ray
95th United States Junior Chamber President

"Life moves pretty fast. If you don't stop and look around once in a while, you could miss it."" - Ferris Bueller, Ferris Bueller's Day Off (1986)" E-mail, texting, Facebook, Instagram, Snapchat, Vine.....ever faster forms of communication can sometimes leave us feeling like we have talked to the entire world in a day, but we haven't made a single real connection. Have you ever wanted to connect with the person, the business, the organization. Whether in our Jaycees lives, our personal lives, or our business lives, having a person to person connection is still one of the most important avenues to success. Join National President Jennifer for a conversation about building that connection and having...a conversation! General Members
Session 2
Introverts: How Can I Be Me And Still Make A Difference?
Mark Garrison

If you're an introvert and in a leadership position or in an organization, the social interactions often required can leave you drained and overwhelmed. But what can you do? You became a "leader" or joined the group because of your skill set; abandoning your position is not an option. We'll explore how introverts can tap into their powerful, natural strengths to make a difference with genuineness, openness, and authority. OR if you are an extrovert, come get a greater understanding of introverts. Introverts, Extroverts, Anybody
Intro to Personal Finance
Ben Parr

Come learn about budgeting, insurance, and saving for your future Everyone
How to Prefect Your Elevator Speech
Fay (Poissant) Walsh
94th United States Junior Chamber President
85th Michigan Junior Chamber President

What is an elevator speech? Come learn how to come up with your chapters elevator speech or to make your elevator speech the best! Everyone
Session 3
Get a Job! - How to nail the interview to land your dream job!
Kristin Garstka

You've scheduled the interview, but how do you seal the deal to make sure that offers start flying in? Learn some tricks of the trade to be able to impress the managers and land your dream job! Everyone
Public Speaking 301: Boom! Mic drop
Jennifer Mansfield

Topic – Check. Research – Check. Wardrobe – Check. Stage set – Check. Gestures and movement – Check. What's left? Keep them interested and leave them wanting more. How do you become the voice that the audience hears in their heads long after you've left the room? Engagement, entertainment, and a bit of salesmanship. We're going to look at some tips to keep your audience focused on you, not their cell phones and the clock. Let's talk about the ways to make sure your presentations and speeches will be remembered. Everyone
How to be Confident
Jay Johnson
90th Michigan Junior Chamber President

I am not sure why I was asked to run this training…Oh wait, yes I am; it's because I am F@%$!#& awesome. I also think you are awesome, which is why I am confident and not arrogant. In this training, I am going to show you how to be confident that you are remarkable; a necessity for leadership, and a skill that will help you personally and professionally. We will look at the psychology, as well some tricks and tips to become the confident person your amazing self should be. #BeRemarkable Everyone
House Hunters 101
Erin Williams & Jennifer Kurland

What you need to know, the questions you're afraid to ask. Tips and tricks on buying a home and getting a mortgage from 3 really good looking industry experts. Everyone
LOCAL ATTRACTIONS
Breweries & Wineries
Redwood Steakhouse and Brewery – Across the hotel parking lot
5304 Gateway Centre Drive, Flint, MI
Brewery Hours:
Friday: 11:00 a.m. - 11:30 p.m.
Saturday: 12 p.m. - 11:30 p.m.
Sun. - 12:00 p.m. - 9:00 p.m.
Tenacity Brewing – 7 miles from hotel
119 N. Grand Traverse Street, Flint, MI
Brewery Hours:
Friday 4 pm – midnight
Saturday 12 pm – midnight
Sunday - closed
Fenton Winery and Brewery – 10 miles from hotel
1370 N. Long Lake Rd., Fenton, MI 48430
Brewery Hours:
Friday & Saturday 12:00 p.m. - midnight
Sunday 12:00 p.m. – 9:00 p.m.
Spicers Carriage House Cellars – 20 miles from hotel
10411 Clyde Road, Fenton, Michigan 48430
Winery Hours: 10 am – 7 pm everyday
Bars/Restaurants
Table & Tap – 7 miles from hotel
555 Saginaw St, Flint, MI 48502
30 Michigan Craft Beers on tap. Top Shelf Bourbon. Savory BBQ. The best food and drinks in Flint!
Cork on Saginaw – 7 miles from hotel
635 S. Saginaw Street, Flint, MI
A wine bar offering over 100 varieties of wine - The Cork features a wine-dispensing system that lets customers purchase a one-to-two once sample of wine. Also available are craft, imported and domestic beers.
Little Joe's Tavern – 5.5 miles from hotel
11518 S Saginaw St, Grand Blanc, MI 48439
The newly renovated tavern features 20 draft pulls. Want to get your beer to go? 64oz. signature growlers now available at the restaurant: $25 for the growler and the first fill from the tap of your choice. $14 for refills.
Fenton Fire Hall – 12.5 miles from hotel
201 S Leroy St, Fenton, MI 48430
Restaurant offering BBQ classics, creative mac ÕnÕ cheese & 40+ beers on tap in an old fire station.
Flint Cultural Center
Flint Institute of Arts – 8 miles from hotel
1120 East Kearsley Street, Flint, MI
The Flint Institute of Arts has assembled outstanding collections of American, European, Native American, African, and Asian art including paintings, sculptures, prints, drawings, and decorative arts.

Highlights of the collection include: 15th to 18th century English, French, and Italian decorative arts, a rare shaped panel by Peter Paul Rubens, a complete set of 17th century French tapestries; a fine collection of 18th and 19th century paperweights and European glass; American and French Impressionist and Post-Impressionist paintings; Hudson River School paintings; Regional and Great Lakes paintings; Modernist; and, Abstract Expressionist and Photorealist paintings.
Saturday 10:00 a.m – 5 p.m. FREE on Saturdays!
Sunday 1:00 p.m. to 5:00 p.m. Adults $7.00; Children under 12 Free
Longway Planetarium – 8 miles from hotel
1310 E. Kearsley Street, Flint, Michigan 48503
Featuring
130 seats under an impressive 60-foot dome, the Longway Planetarium is MichiganÕs largest planetarium. After a recent $1.8 million dollar renovation, completed in May of 2015, the Longway Planetarium now features the only projectors of their kind in North America. It is one of only 3 Planetariums in the world to feature this technology.
Check the Planetarium's schedule for show times.
Sloan Museum – 8 miles from hotel
1221 E Kearsley St, Flint, MI 48503
Sloan Museum is a regional history and science museum. Permanent displays chronicle the history of Flint and Genesee County, Michigan, and our other rotating exhibitions focus on science, technology, or history.
Admission Prices
(also includes admission to Buick Automotive Gallery)
Adults - $9
Seniors - $8
Youth (2-11) - $6
Child (1 & Under) - Free
Sloan Museum is open:
Friday: 10:00 - 5:00
Saturday & Sunday: 12:00 - 5:00
Buick Automotive Gallery – 8 miles from hotel
303 Walnut, Street, Flint, MI 48503
The Gallery typically features 20 classic and concept Buicks, Chevrolets and other locally built automobiles rotated from the Sloan fleet of over 100 Flint-built carriages and automobiles.
Buick Automotive Gallery is open:
Friday: 10:00 - 5:00
Saturday and Sunday: 12:00 - 5:00
Admission included with purchase of ticket for Sloan Museum.
Family Fun:
Flint Children's Museum – 7 miles from hotel
1602 University Ave, Flint, MI 48504
Hours:
Friday & Saturday 10 a.m. to 5 p.m.
Sunday 12 p.m. to 4 p.m.
Admission: $6.00 per person
Crossroads Village and Huckleberry Railroad – 13 miles from hotel
6140 Bray Road, Flint, MI 48505
Crossroads Village is an authentic Great Lakes town from the turn of the last century, with over 34 historic structures. During the month of October the Village is filled with friendly witches, happy ghosts and some of your favorite spooky friends. Find your way through an amusing straw maze and an enchanted forest where trees have eyes. Watch an old-fashioned magic show and take a 40-minute ride on the famous Huckleberry Ghost Train Express! There are trick-or-treat stations throughout the Village with plenty of doughnuts and candy for everyone! Costumes are optional!
Hours
Friday 5 p.m. to 9 p.m.
Saturday noon to 9 p.m.
Cost:
Village Only Ticket (Any day): $10.00
Combination Ticket: Village/Train $13.00
Miscellaneous
Flint Farmer's Market – 7 miles from hotel
300 East First Street, Flint, MI 48502
A year round public market with 50 vendors inside the building; neat and clean and features several produce vendors, a great meat market, poultry, breads and baked goods, cheese, a wine shop, an art gallery, a cafe, middle-eastern and Mexican groceries, and many unique gifts.
Hours:
Thursday 9 am – 6pm
Saturday 8 am – 5pm
Coffee Beanery World Headquarters – 10.5 miles from hotel
3429 Pierson Pl, Flushing, MI 48507
During the 40-minute walking tour, you will be shown a real working coffee factory where they roast over 46 different varietals, blends and flavors. Learn how a coffee bean makes it from the field to your cup and discover the secrets as to why Coffee Beanery's coffee is so amazing.
To set up a tour, please contact customerservice@beanerysupport.com or call 810.244.8151
SPONSOR
Sponsorship - $100 level
We welcome all levels of sponsorship! This is a great way to promote your business to the Michigan Jaycees. For $100 your company information will be displayed at conference and at the registration table.
Contact Tom Quackenbush for additional sponsorship levels at (989) 475-4793 or tquackenbush@mijaycees.org.
As an added bonus you will be provided with a $50 discount towards a registration of your choice. Just designate the name of the recipient who should receive the discount and we can supply a promo code or apply a refund to a registration that has already been purchased. Thank you for your support of the Michigan Jaycees!
PHOTOS
APP
For this conference we are testing out a new app. Download Lanyrd from your app store and search for MIJC15